So, I've been on a bit of a baking spree for the past few days... Blame it on the upcoming holidays and having to mail things out to people! Guess it's pretty obvious that I've baked a bunch of cookies and want to share the recipes here.



Benne Biscuit

: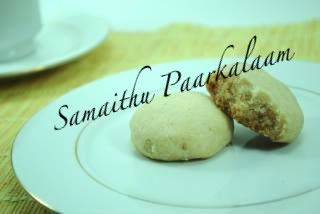 This is one that my husband and sister-in-law were telling me about. Apparently, it's a butter biscuit that they used to love eating in Bangalore. So, I looked up a recipe and decided to try it. The results were delicious!! Original recipe can be found here. I didn't make any changes to the recipe and they came out awesome!



Eggless Chocolate Oat Cookies: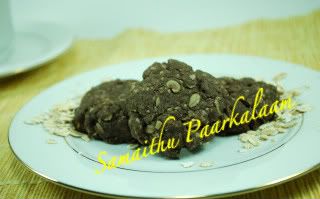 This one was a special recipe that I found to send to my cousin's kids. Her two little ones have eczema and can't have dairy or eggs. What to send? Well, I didn't have to look far for this one. Sailu's blog came to my rescue with this recipe. The cookies were slightly chewy when warm and turned crisp on cooling. They had a nice chocolatey flavor and the oats texture really shined through. Perfect treat for little ones! No changes to this recipe either. Sailu's instructions were perfect!



Gingersnaps:





These are the perfect all-American holiday cookie... A little spicy, a little sweet and crispy. They keep forever (if you can hold on to them for that long!) and are perfect for dunking in tea or hot apple cider. The following recipe is from my King Arthur Flour cookbook.



Ingredients:



All purpose flour - 1 1/3 cup
White whole wheat (or all purpose) - 1 cup
Dried ginger powder - 2 tsp
Cinnamon - 1 tsp
Cloves powder - 1/2 tsp
Salt - 1/2 tsp
Baking soda - 2 tsp
Butter - 3/4 cup, softened
Sugar - 2/3 cup (1 cup for more sweet cookies)
Egg - 1 large
Molasses - 1/3 cup

Coarse sugar to roll cookies in - about 1/3 cup



Method:



1. Preheat oven to 375 F. Grease cookie sheets or line with parchment paper.

2. Sift or whisk together the dry ingredients (flours, spices, salt, and baking soda) in a small bowl. In another larger bowl, beat together the butter, sugar and egg until light and fluffy (like whipped cream). Now, beat in the molasses until well combined. At this point, add in the dry ingredients and stir together to form a soft dough.

3. Now, take 1-2 tsp of dough for each cookie, form into a ball and roll each ball into the coarse sugar to coat. Place about 2 inches apart on the greased or lined cookie sheets.

4. Bake at 375 F for 10-12 minutes or until golden brown. They will appear soft when you remove them from the oven, but will harden on cooling. Cool on cookie sheet for 2 minutes, then remove them to a wire rack to cool completely.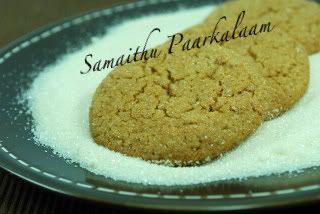 Enjoy with beverage of your choice!

In honor of the events going on in the blogosphere, the first 2 cookies are going to Sharmi's cookie event as well as JZ's Santa's Holiday Challenge.

Gingersnaps are headed to the monthly mingle at Meeta's blog!

And with that, my friends, am going on vacation and will be back in 10 days or so. Hope everyone has a great rest of the year!